Posted by Trader Sam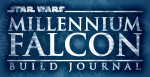 The first package arrived exactly one week after ordering the subscription. The box was small, and everything fit just right.
The magazines are standard sizes as far as magazines go, and are only 13 pages long. Issue 2 arrived damaged, with a bent corner and a small tear, but nothing to really complain about. I foresee these things getting a lot of use over the next two years as I rifle through them for reference.