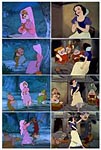 Check out these scene comparisons from Robin Hood, Snow White, the Jungle Book, and the Sword in the Stone. Disney animators copied the scenes of not only the main characters, but the background characters as well! The following two images are from a French blog.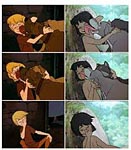 These haven't been the last time that Disney has copied work from other sources. In fact, they've gone a step further and actually used old animation (with some minor costume tweaks) in newer films. The latest one that I can recall is the final scene in Beauty & the Beast where Belle and the prince are dancing in the distant background.
The costumes of Aurora and Philip were tweaked to look like Belle and the prince, but the characters (and animation) really are from Sleeping Beauty. If you have both DVDs, go ahead and compare the two. I believe there's even film commentary on the B&TB DVD about that little bit of trivia.