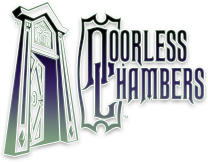 I know it's been a little slow around here lately, but I am knee-deep in client work, eBay scams, and all manners of Halloween preparations.
Speaking of Halloween, this is just a little reminder about Doorless Chambers. There is roughly 1 week left to sign up! The number of participants is a tad low this year, so let's try to bulk up the numbers. You can see past participants in the Yearbooks section (you might find some leftover treats there!), and you can get access to some creative tools in the Workshop.
I've even been too busy to keep up with the year-long TDE celebration, which I've let fizzle out. Still, there have been some great Guest submissions on the Fan Board, and there are a few Halloween goodies coming out next month.