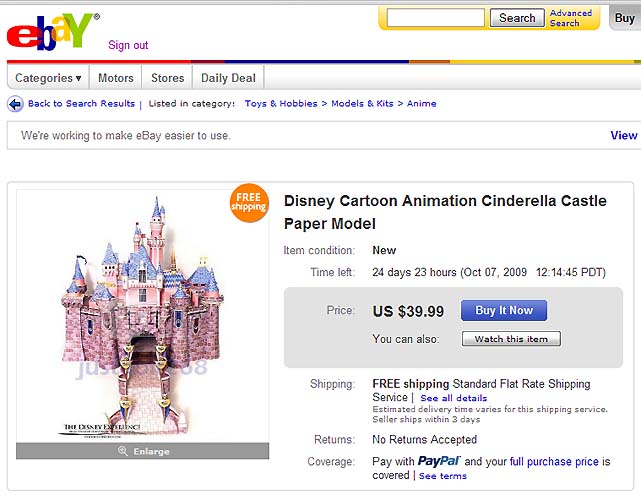 Forty bucks, huh?
As a reminder, and as a notice to everyone new: please do not sell the paper models. It's illegal, it violates the attached license agreement, and it violates at least two points in an official Disney contract. You WILL be reported.
Paper models are to remain FREE (hence, no selling!), and the Disney Experience has sole distribution rights (you can't get them anywhere else). Selling on eBay takes advantage of those who don't know they're free. In this particular eBay listing, the seller has gone a step further and posted copyrighted photos from my Flickr account. Even the website name & logo and the copyright notice with my name are on the images. Don't do that, either.
Thanks go to those who keep an eye out for such things and report them to me. If you do see a violation on any website, contact me. Violators will deal with me before dealing with Disney legal, and they don't play around!
Both the post author and this website have not received any compensation for writing this post. Both the post author and this website have no material connection to the third-party brands, products, or services that have been mentioned. This is being disclosed in accordance with the Federal Trade Commission's 16 CFR, Part 255: "Guides Concerning the Use of Endorsements and Testimonials in Advertising."

---
There are 11 comments.