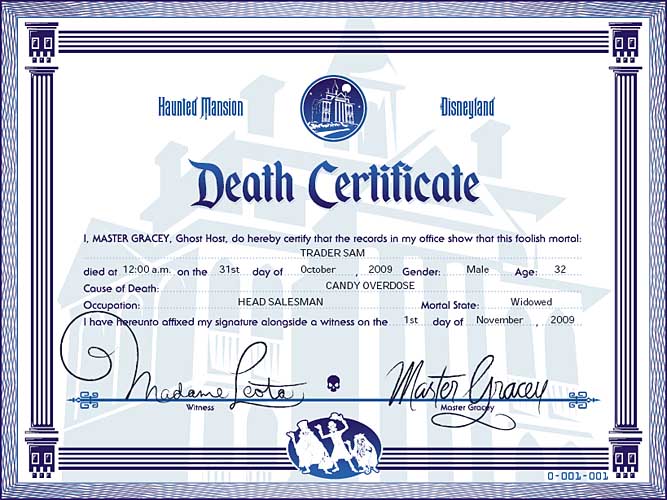 Okay, if you're not a Disney theme park fan, you probably don't get the title of this post. It's a joke about the attractions' Spanish safety spiel telling guests to "remain seated please." I'm listening to Windows to Sky's rendition of the Haunted Mansion/Grim Grinning Ghosts as I write this, and that line is in the audio track. It's funny because it starts off reciting the mansion's Spanish spiel, jumps to "cinnamon toast and tacos are on the floor," and finishes in Spanish again. Great stuff!
That brings me to some late great Haunted Mansion finds. During the Halloween week, I am typically focused on nothing other than Doorless Chambers and decorating the front porch. It's not until later that I find (or re-discover) Internet goodies. This year, I found all-mansion items.
Ray Keim, over at Haunted Dimensions, has a last-minute mini New Orleans Haunted Mansion paper model. Mini versions of his other models are coming within the next year.
Keith LuBrant has a jazzed-up guitar version of Grim Grinning Ghosts. It's a must-have mp3.
The Mousetalgia team discusses Hallowen Time at the Disneyland Resort and has an exclusive interview with Kat Cressida, the voice of the black widow bride. Listen to episode #52 now!

David Occhino has updated his Mansion font to version 3.0. It features 18 styles and 4 variants, giving a wide array of chilling visual features to the classic Haunted Mansion typeface! His free Mansion Cryptbats (introduced during his participation in the 2009 Doorless Chambers event) is also available.
David's Mansion Cryptbats have been popular. Not only have they been used in the creation of Louie Mantia's "Eerie Eyes" wallpaper, but they've been used in the creation of a unique death certificate for DoomBuggies.com. Fill out the simple form, and the website spits back a custom-made Haunted Mansion death certificate PDF.
Robert Nava (aka Trader Sam) is the owner and operator of Doorless Chambers. Both the post author and this website have not received any compensation for writing this post. Both the post author and this website have no material connection to the third-party brands, products, or services that have been mentioned. This is being disclosed in accordance with the Federal Trade Commission's 16 CFR, Part 255: "Guides Concerning the Use of Endorsements and Testimonials in Advertising."
---
0 Comments