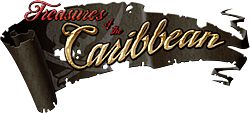 I've been digging through the series of tubes, called the Internet, and I think I've come up with some nice pirate-themed goodies for the "Treasures of the Caribbean" contest. Let me know what you think . . .
Pirates of the Caribbean: Dead Man's Chest Jack Sparrow compass CD player.

I bought this years ago and meant to return it to the store (an mp3 player was more desirable). It's been undisturbed in a closet until now.

Revell "Caribbean Pirate Ship" plastic model kit.

Originally released in 1960 (in conjunction with Disney) as "Peter Pan's Pirate Ship Jolly Roger." The model was/is a replica of the

Chicken of the Sea pirate ship & restaurant/Captain Hook's galley

(a.k.a. Captain Hook's pirate ship) that sat in

Disneyland's

Fantasyland until 1982. When the license with Disney ended, the model kit was re-released under different names.

I own this model (some day I'll get around to putting it together), compared it to photos of the real thing, and it is pretty accurate.

Various Master Replicas products (Davey Jones' key, Tia Dalma's locket, Jack Sparrow's rings, etc.).

Lovely replicas worthy of any POTC collector.

Pirates of the Caribbean Blu-ray movie trilogy.
Olszewski "Pirates of the Caribbean" attraction Pokitpal.
The Art of Pirates of the Caribbean book.

Tons of precious artwork from front to back! Most text are captions.

Pirates of the Caribbean Online game card(s).
"Pirates of the Caribbean" attraction soundtrack.
If I make it to Disneyland any time soon, I'll be on the lookout for more attraction-themed items like prints.
I also cannot stress enough how much any type of site donation would be appreciated. Money will be a little tight leading up to this event, so any help with site upkeep would be great!

---
There are 17 comments.