I just wanted to thank all of whom have been gracious enough to provide a donation.
I am still treasure hunting, and will be all through May. I am working with a long-time contact who is willing to part with some neat pirate goodies, like a limited edition Pirates of the Caribbean virtual reality CD-ROM, and a 1970's POTC souvenir book. Nothing is final, though.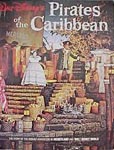 I will also (hopefully) be attending Disney's California Food and Wine Festival on May 7th or 14th. I'll have an opportunity to go through the World of Disney shop to scavenge for even more pirate booty.
---
There is 1 comment.