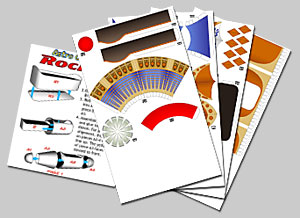 Yes, they're back, and you can have one for a $7 donation.
I've had these four mini paper models sitting in my computer since Spring of 2008, waiting for a day when I would figure out what I wanted to do with them. They were a free bonus back when I offered the regular models on CD-ROM.
To get one, simply make an $7 donation (choose "Option B" on the page). If you'd like multiple models, multiply your donation. Everything is securely handled by PayPal, and you don't need a PayPal account. Every cent helps maintain this site, reducing costs for things like (our NEW) hosting, domain registration, monthly giveaways, contest prizes, donation giveaways (like the mini models), and Flickr to name a few.
This is phase two of the "Donation Incentive Program," which debuted last year with the monthly giveaways. Speaking of giveaways, the next giveaway will be 5 complete set of all four of these mini models (5 winners). Since we're so close to the end of February, I'll hold off until March 1 so that everyone has a full month to participate.

---
0 Comments