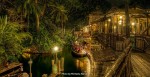 Yesterday, I was introduced to a wonderful little website called Tours Departing Daily (TDD). TDD features photos of the Disneyland Resort in HDR (high dynamic range). And, these photos are drop-dead gorgeous! I fell in love with the New Orleans Square and Adventureland ones, making them my new set of rotating Desktop wallpapers.
HDR photos capture a wider range of light than traditional photos, creating unique and artistic effects. If your digital camera has an HDR mode, I'd love to see what you capture at the Parks.
-CORRECTION-
Having an HDR mode on your camera is not going to cut it. You actually have to take 3 or more photos (at different exposures) and combine/adjust them with an image editing program(s).