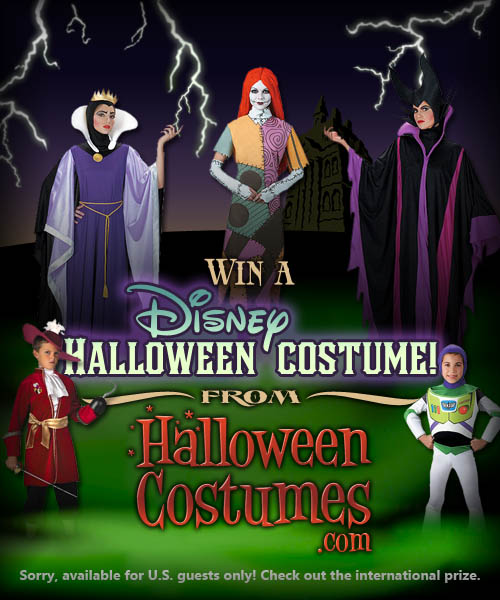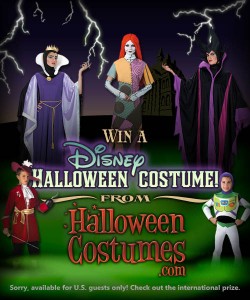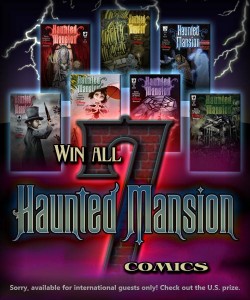 All $1-minimum donations are automatically entered to win. Donations must be received by September 30 (Pacific Time). Winners are selected at random.
Yeah, you read that right. One dollar! Wait . . . there's more. Each dollar donated counts as a separate entry, increasing your chances of winning a prize. How awesome is that!? Are you ready for more?
As a special thank-you to all of you who made donations last month (we know you could have saved up for this event), all donations made after August 12 will qualify for this month's giveaway. Yes; you're already entered! Woo-hoo!
This month, we're proud to be sponsored by HalloweenCostumes.com, who are graciously donating costumes. Two lucky winners will each get to pick out a Disney costume worth up to $60 and have it shipped for free! We REALLY want you to get these in time for your Halloween party and/or trick-or-treating, so we have to limit shipping to the U.S. only.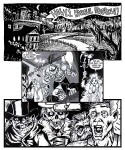 But, fret not, my international friends! I grabbed my rusty old shovel, I headed out to the graveyard, and I dug up an appropriate Halloween goody just for you. One lucky international winner (sorry, fellow U.S. citizens) will receive all 7 copies of the Haunted Mansion comics, published by Slave Labor Graphics!

We know your mind is racing. If you have any questions, please feel free to either leave a comment or send an email. Winners will be announced on October 1.
This is a "sponsored post." The company who sponsored it compensated either the reviewer or this website via a cash payment, gift, or something else of value to write it. I am disclosing this in accordance with the Federal Trade Commission's 16 CFR, Part 255: "Guides Concerning the Use of Endorsements and Testimonials in Advertising."
---
There are 4 comments.