I was saving these wallpapers for a later date, but with the news of some upcoming unique coins, I thought I'd release them now. On November 1, the New Zealand Mint will release two different sets of Star Wars coins.
The first set of coins come in two sets of four, and are legal tender on the island of Niue. They contain 1 oz. of pure silver, and depict iconic characters in full color. Who would ever spend these!? The sets come in a Millennium Falcon case and a Darth Vader case, each playing sound effects when opened. Grab all eight coins (limited mint of 7,500) for $385.42 per set (yikes!).
For a more affordable option, there is a series of ten collectible coins, sold separately for $19.32 each. The non-legal tender coins are made of a silver-plated base metal, and are not quite as nice as the previous set.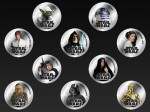 From the details on the website, it sounds as if all of these coins are just the first wave, so we can expect to see more characters and designs in the future.
Both the reviewer and this website have not received any compensation for writing this post. Both the reviewer and this website have no material connection to the brands, products, or services that have been mentioned. This is being disclosed in accordance with the Federal Trade Commission's 16 CFR, Part 255: "Guides Concerning the Use of Endorsements and Testimonials in Advertising."
---
0 Comments