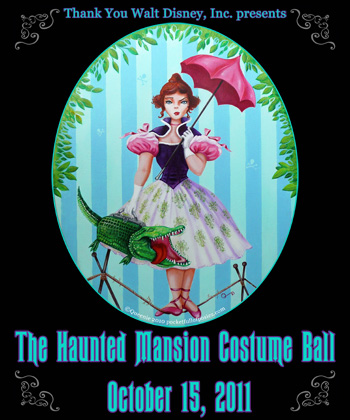 On October 15, Thank You Walt Disney, Inc. will be having their Haunted Mansion Costume Ball to help raise funds to preserve Walt Disney's original Laugh-O-Grams Studio. The party (8pm to midnight) will be held at the Arts Tech Gallery in Kansas City, where there will be food, drinks, and dancing.
Original Haunted Mansion merchandise will be raffled off as well as other unique collectibles from vendors. Courtesy of designer MadMynx, 15% of all Haunted Mansion merchandise bought online will be donated to Thank You Walt Disney, Inc.
Tickets for this event are on sale now. Buy an individual ticket for $35, or buy couples tickets (2 tickets sold as a pair) for $65. Other pricing options are available.
I was originally going to submit a one-of-a-kind art piece for the event, but I had to cancel/postpone. After re-evaluating my October schedule, I realized that I would never finish in time. The technical problems that I was having with the piece were hard to get around. Not impossible, mind you, just time-consuming and requiring some clever solutions.

The piece, a view of the Haunted Mansion's grand ballroom, would have been a three-dimensional painting using forced perspective. The shapes would be painted, cut, and assembled from stretched water color paper. Designing it in Blender helps get the shapes correct (for assembly), and it provides a general pre-visualization of the layout. I still want to create this piece, if not for charity, then for myself. Some day . . .
Both the reviewer and this website have not received any compensation for writing this post. Both the reviewer and this website have no material connection to the third-party brands, products, or services that have been mentioned. This is being disclosed in accordance with the Federal Trade Commission's 16 CFR, Part 255: "Guides Concerning the Use of Endorsements and Testimonials in Advertising."
---
0 Comments