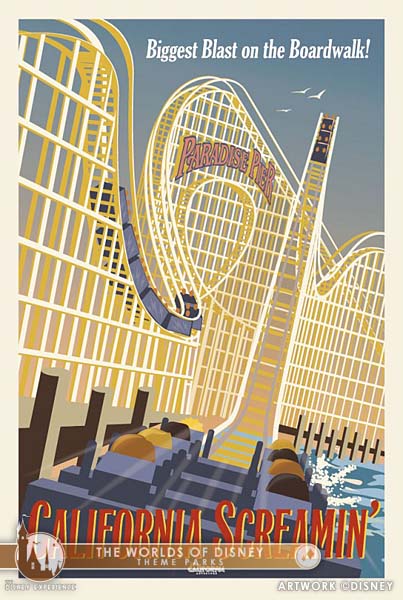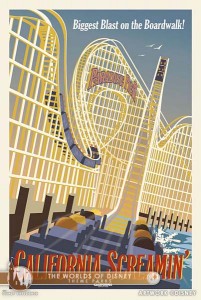 Disney has been releasing these wonderful posters for a while. I love the clean, simple lines. They really harken back to the retro Disneyland posters that did pretty much the same, but with a more organic, hand-made look. The style definitely fits the themes of early-mid 1900's boardwalk (Paradise Pier) and Los Angeles (Buena Vista Street, Condor Flats, & Tower of Terror).
It's also curious to see all of these posters (more to come, I'm sure) in the same style. Across the way, at Disneyland, you don't get the homogenized posters; they each have a look and feel of their own.
But, I think California Adventure needs it more, connecting the "lands" into a more cohesive park. If you think about it, most of the park now (or will) focus more on the nostalgic California of the past. And, I think these posters are doing a great job of carrying that theme.
Both the reviewer and this website have not received any compensation for writing this post. Both the reviewer and this website have no material connection to the third-party brands, products, or services that have been mentioned. This is being disclosed in accordance with the Federal Trade Commission's 16 CFR, Part 255: "Guides Concerning the Use of Endorsements and Testimonials in Advertising."

---
There is 1 comment.