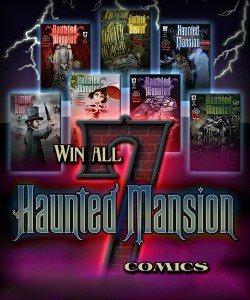 All $1-minimum donations are automatically entered to win. Donations must be received by October 31 (Pacific Time). Winners are selected at random.
You know what? Since we're having a special, extra-long Haunted Experience, and I'm in the Halloween spirit, let's take that left-over prize from last month's giveaway and open it up to everyone for October! This month's winner will receive all 7 Haunted Mansion comics.
If you have any questions, please feel free to either leave a comment or send an email. Winners will be announced on November 1.
Both the reviewer and this website have not received any compensation for writing this post. Both the reviewer and this website have no material connection to the third-party brands, products, or services that have been mentioned. This is being disclosed in accordance with the Federal Trade Commission's 16 CFR, Part 255: "Guides Concerning the Use of Endorsements and Testimonials in Advertising."

---
There is 1 comment.