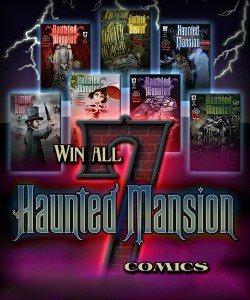 All $1-minimum donations are automatically entered to win. Donations must be received by October 31 (Pacific Time). Winners are selected at random.
You know what? Since we're having a special, extra-long Haunted Experience, and I'm in the Halloween spirit, let's take that left-over prize from last month's giveaway and open it up to everyone for October! This month's winner will receive all 7 Haunted Mansion comics.
If you have any questions, please feel free to either leave a comment or send an email. Winners will be announced on November 1.