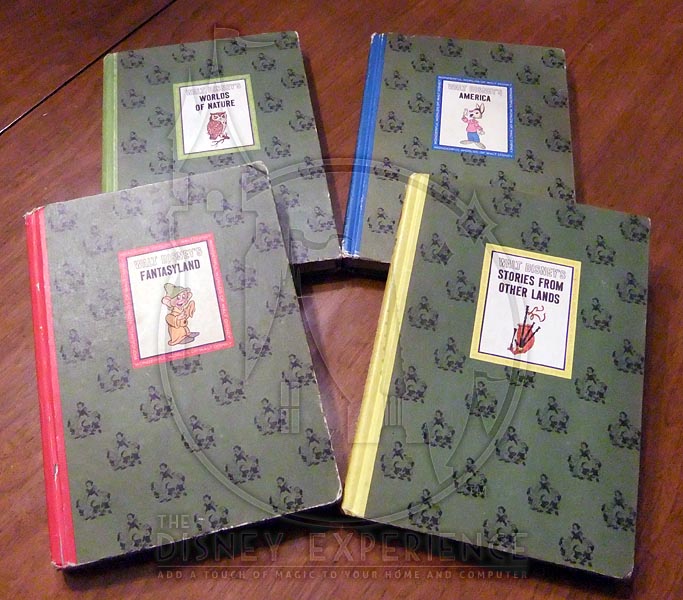 I'm finally back home from my weekend trip. Well, it was supposed to be a weekend trip. But, I ended up staying for nearly a full week. You see, I went to visit my mother. She had been in the hospital for over a month, and I had heard that she was improving. Since she had been yo-yoing in health, I waited for a high point to see her. I had seen her at a very low point, and I had no desire to witness that again.
I stayed at my mother's house to keep my sister (who has been taking care of our mother) company. While there, I took some photos to share quite possibly the childhood source of my Disney fanaticism.
The Wonderful Worlds of Walt Disney is a four-book set that my sister (my other sister) and I had as children. I flipped through the pages of art and colorful stories, enthralled by it all. I even enjoyed the slightly musty smell (it's still there!). Copies can still be purchased online at a low price on Etsy, maybe even eBay. I've thought about buying a set (complete with cardboard slip cover), but it just wouldn't be the same. Although, it would be nice to at least have a slip cover to protect the aging treasures.
Rather than go on and on, I'll let the images tell the story.

Our mother passed away Sunday, September 2, 2012 at the age of 55.
Both the reviewer and this website have not received any compensation for writing this post. Both the reviewer and this website have no material connection to the brands, products, or services that have been mentioned. This is being disclosed in accordance with the Federal Trade Commission's 16 CFR, Part 255: "Guides Concerning the Use of Endorsements and Testimonials in Advertising."
---
There are 3 comments.