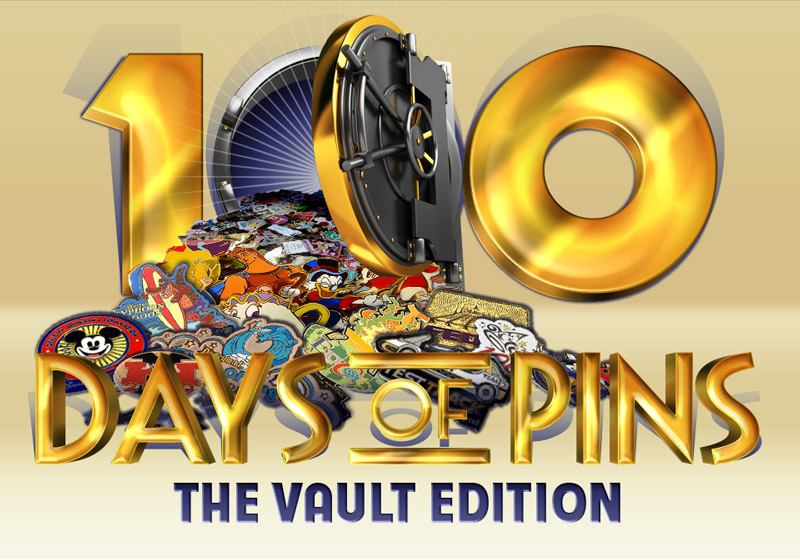 Calling all Disney pin collectors! Our friends over at Disneyana.com are having another big pin event beginning August 1st at 7am PST (10am EST). . . 10 pins a day for 100 days. That's 1,000 pins!
What makes the Vault Edition II so special is that many of the pins offered will be from our personal collection vault. These were purchased and acquired during the infancy of the Disney Pin Trading explosion, which officially kicked off at the Walt Disney World Resort on January 1st, 2000. For those of you who are familiar with the PinPics website, many of the pins that will be offered are from the first 10-30 pages. Most pins come on their original cardbacks, are in protective plastic sleeves, and are in the same condition as they were 15+ years ago.
There is only 1 of each pin available, and they typically sell within minutes or hours. While you're reviewing a pin, someone could be buying it at the same time, so look sharp, and don't hesitate.
The "Pins of the Day" will be listed no later than 3pm EST of each day, so be sure to check back daily, and tell your friends. In addition, there will be times when some pins will be offered at a special price. Pins will include many Limited Edition, Cast Member, Special Event, Disneyland, Walt Disney World, Tokyo Disneyland and Disney Store pins that are no longer available. Pin prices will range from $1 to hundreds of dollars with most pins between $10-$20.
If you're looking for rare or hard-to-find pins, completing your collection, or you're just looking to buy some traders, have a look at what Disneyana.com has to offer. They've been amazingly supportive of us in our early years, and are responsible for allowing the Disney Experience to grow into what it is today. Show a little love, and buy a pin or two.

Disneyana.com also sells both antique and contemporary Disney memorabilia such as theme park merchandise, Cast Member items, books, magazines, character merchandise, jewelry, watches, scrapbooking materials, plush, special event merchandise, and more. Follow their Twitter feed for short specials, coupon codes, new product alerts, and more.

This is a "sponsored post." The company who sponsored it compensated either the reviewer or this website via a cash payment, gift, or something else of value to write it. I am disclosing this in accordance with the Federal Trade Commission's 16 CFR, Part 255: "Guides Concerning the Use of Endorsements and Testimonials in Advertising."
---
0 Comments