The Halloween season is almost over, and the Christmas season is right around the corner. And, thanks to Tim Burton's "Nightmare Before Christmas," we have an awesome transition from one to the other.
But, if you want to make both holidays a hit, try wrapping presents with Tim Baker's Haunted Mansion Holiday wrapping paper patterns. The high-resolution images tile, so you can make them as big as you like, and they come with "ribbon." The trick is finding a printer that will print the large sizes. Or, you can print them on regular paper at home, matching and taping the edges together.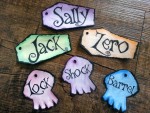 Of course, no present is complete without a gift tag, which Kristie has graciously provided.

---
0 Comments