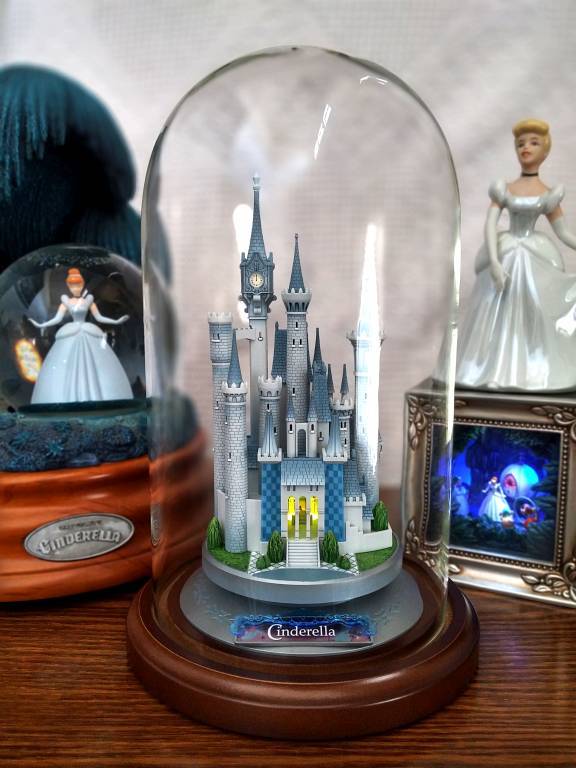 Oh, what an awesome find! I was nosing around on the internet one day, and I came across Bandai's Castle Craft Collection. These fun little models are of castles from Disney animated films. So far, there are three in the set: "Cinderella," "Frozen," and "The Little Mermaid." Hopefully, they'll come out with more; I'd love to do the Beast's castle. But, for now, I'll make due with the "Cinderella" castle.
Both the "Cinderella" castle and the "Frozen" castle come with a simple LED light that require three LR44 button cell batteries. At first, I thought that not including batteries was a bad move on Bandai's part, but it turned out to be pretty smart. When it comes to batteries, countries have weird laws about importing them, and these model kits typically ship from Japan.
When an item ships from Japan, I always have to keep in mind that shipping takes a long time (typically 2-6 weeks), and there will be no tracking number. It's horrible, because I never know when an order will arrive; I'm always checking the front porch for packages. But, for awesome items like the Castle Crafts, I can be patient.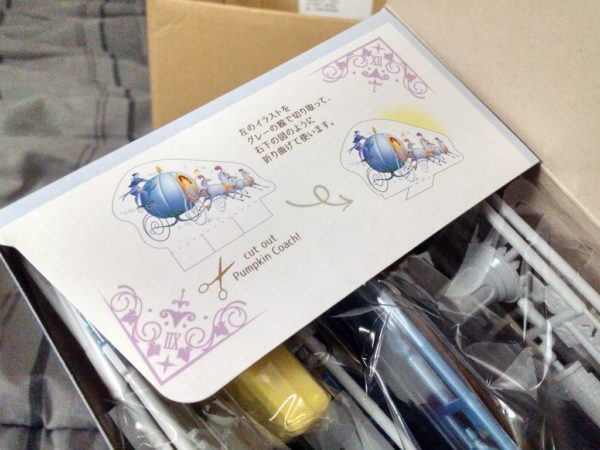 Inside, there are a couple of odd bonuses that come with the kit. One of the inner flaps of the box has a little cut-out pumpkin coach. Since I don't view the castle as any kind of play toy, I found it kind of odd to include this. Of course, the pumpkin coach could be played with separately. What do I know; I'm an adult.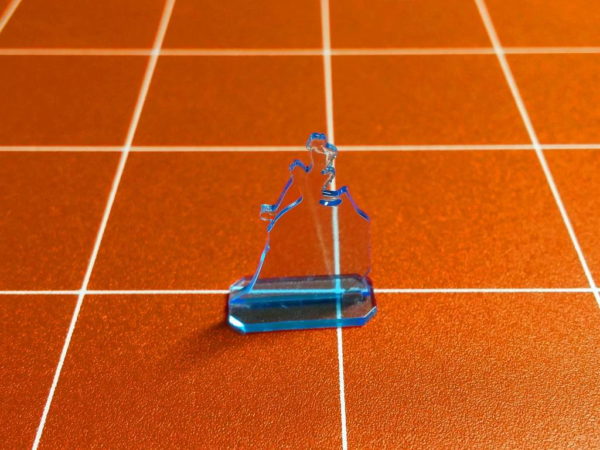 Attached to one of the parts sprues is a tiny Cinderella figure. All of the castles come with a figure like this, but I don't see the purpose. Again, I'm an adult thrown for a loop.
The instructions are in full color, and in Japanese. But, Bandai does a great job of making the illustrations clear enough that a translation is certainly not needed. Bandai excels at instructions.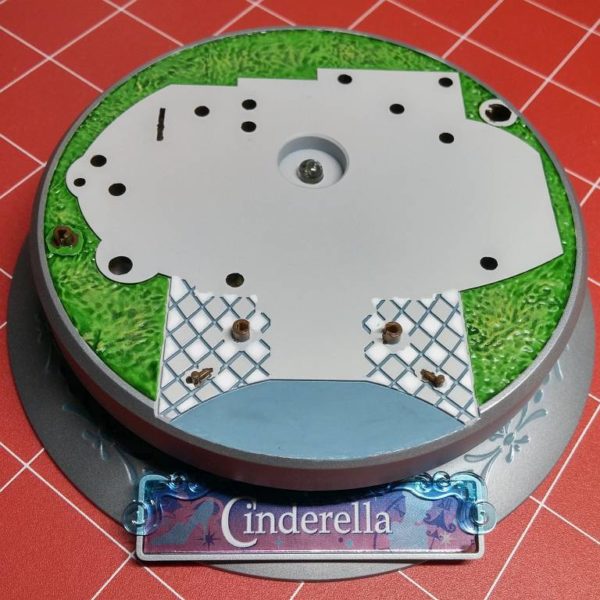 Looking at the parts, I knew that I was going to have to customize a few things. I had seen an image of the castle where it had been painted up, and it looked like it had been ripped right out of the film.
The first thing that had to be modified was the display base. That brown mess did not look attractive. So, I painted it silver with periwinkle accents. I also painted the grass and entryway.
The model has great details, which is another hallmark of Bandai's kits. There's even a tiny slipper sculpted onto the inner stairway. To make the details "pop," I applied washes. The bushes and turrets also got a complete paint job.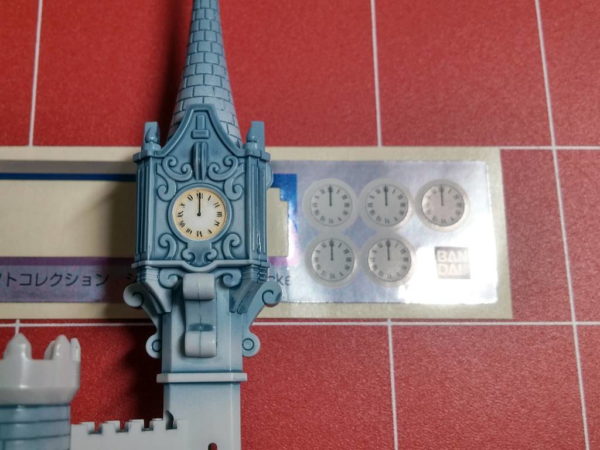 The clock tower comes with four stickers, but the clock faces are actually sculpted onto the parts. It's great that there is an option for this since many people cannot paint such tiny details.
The model went together exceedingly well. The parts fit perfectly, and they are so snug that glue really isn't required. But, I used my Tamiya Extra Thin Cement anyway to make certain that the castle never falls apart.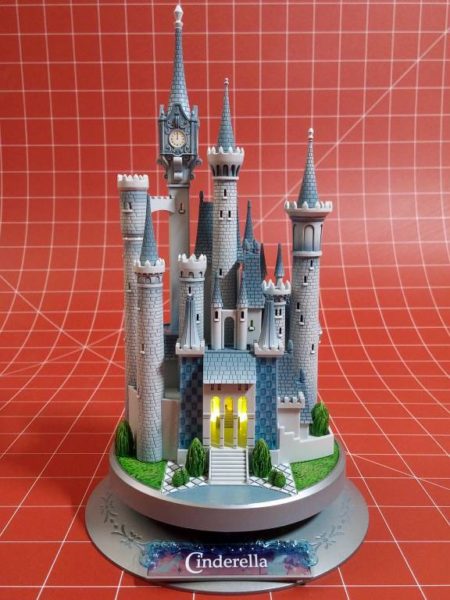 Completed, the castle looks just like the reference image that I used (except for the silver base). The LED lights up the interior and one window, but doesn't add much beyond that. Still, it gives the impression that there are events (a ball, perhaps) going on inside the castle.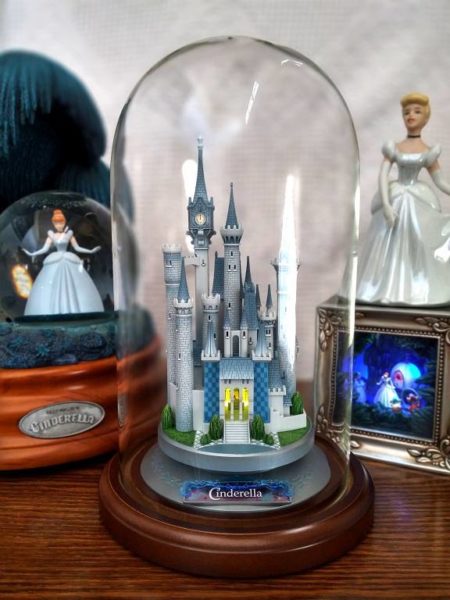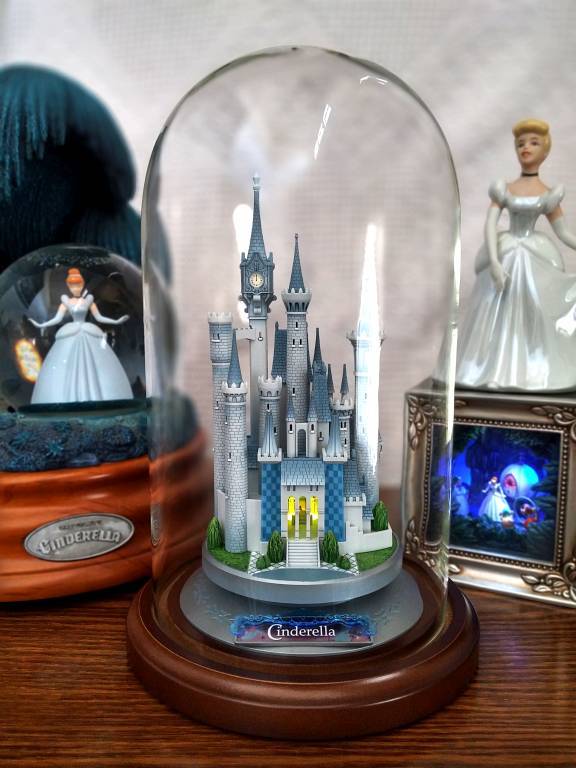 The castle turned out so well, I decided to put it into a domed display with a walnut base. Now, I'm torn between keeping it for myself or giving it away as a gift.
I gave it as a Mother's day gift.
Both the reviewer and this website have not received any compensation for writing this post. Both the reviewer and this website have no material connection to the brands, products, or services that have been mentioned. Some of the links in the post above are "affiliate links." This means if you click on the link and purchase the item, we will receive an affiliate commission. This is being disclosed in accordance with the Federal Trade Commission's 16 CFR, Part 255: "Guides Concerning the Use of Endorsements and Testimonials in Advertising."
---
There is 1 comment.