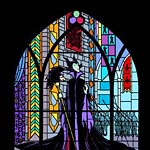 Okay, here's an update on the Sleeping Beauty Castle paper model. It doesn't belong with the Designing a Paper Model images, so it's going here.
Before finally moving onto the adding of tabs and labels, I'm finishing up the stained glass windows. The real-life windows have a lot of detail. So much, in fact,  that it would be insane to recreate it all. Since the printed windows will only be 2-3 inches high, a lot of that information (and work) would be lost. So, you may notice things like Maleficent's missing face. Hopefully, no one will miss it.
-UPDATE-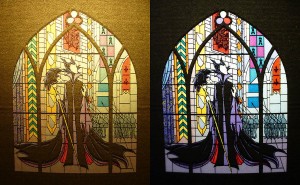 I've printed a test of this technique using vellum (I love vellum!). Two printed images were overlapped, and the colors really do become much more saturated. I clipped both a single print and a double-print to my desk lamp, and you can see a vast improvement. The photos to the left have not been retouched.
By the way, I got the idea/tip from Dave Lowe's blog.

---
0 Comments