My Disney Experience
We're Not Disney

If you're looking for the My Disney Experience website, you're in the wrong place! We're an independent Disney fan site, and we are not owned, operated, or affilitated with the Walt Disney Company. We're sorry for the confusion, but we've existed since 1999, long before the My Disney Experience service began operation.
Give Us a Chance
Since you're here, why not have a look around? We have a lot of fun family crafts and activities as well as goodies for customizing your computer. Or, you can bookmark us for a later visit.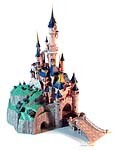 Our most popular items are our collection of paper models. Some are original designs, but we've also collected wonderful works from all over the Internet.
We also have some projects and crafts like pop-up cards and even our very own Haunted Mansion board game.
Explore the website, and we're sure you'll find something fun and entertaining.