Create Your Own Disneyland Photo Mosaics
Tools
batch-editing software
printer (optional)
Supplemental Material
Create your own Disneyland photo mosaics or any photo mosaic. You'll need one (possibly two) free program(s). The first one is called AndreaMosaic. It's easy to use, and there are samples, tutorials, a forum, and everything else you may need on the site. With this mosaic program, you can:
Choose the mosaic's size (in pixels)
Choose how many images you want the mosaic to be made of.
Choose if AndreaMosaic can flip images.
Choose how much images can be altered.
Choose how far duplicate images should be from each other, and more.
If you try to use big photos, the program will freeze—it can't handle the load. You're supposed to use small pictures (they're going to be tiny anyway), the longest side being around 300 pixels. But resizing a ton of photos is too time consuming—that's where IrfanView comes in.
With IrfanView, you can batch resize all of your photos. In other words, the program will resize everything to a size you specify in just a minute or two. It'll even save the new resized images in a different folder so that your originals are not harmed. I suggest doing a small test batch first (use copies of images in a new folder) so that you can get a hang of the multitude of options that IrfanView has, and so you don't accidentally ruin good photos. Of course, if you already have a program that can alter images in batches, you don't need IrfanView (or maybe you'll like it better than the program you have already).
The best pictures to turn into mosaics are ones that don't have a lot of tiny detail; you typically want something with large shapes. A few good test images are available below. The more photos that you use in a mosaic, the more detailed it will turn out. It's also good to have a wide range of photos varying in color and lightness/darkness, although you can let AndreaMosaic alter the images as much as you like.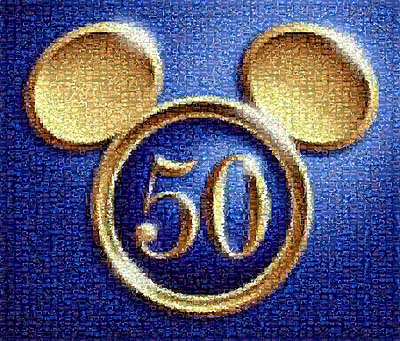 This mosaic has over 2,000 images (yes, there are duplicates), and AndreaMosaic was allowed to alter the images up to 50 percent.
Test Images