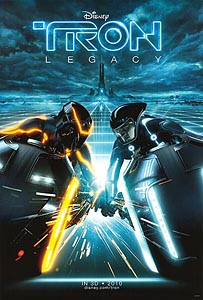 All $2-minimum donations are automatically entered to win! Donations must be received by November 31 (Pacific Time). Winners are selected randomly.
Two lucky winners will receive an AMC gift card worth $12 to go see TRON: Legacy in 3-D! The card should cover the price of an adult admission ticket for a 3-D matinee movie, possibly with a little bit over (theater prices may vary). It's good for movie tickets and concession items, and it never expires.
If your theater doesn't show 3-D movies, go see the regular version. In that case, the gift card should cover two tickets; take a friend or a loved one with you. Or, you could buy some candy and/or popcorn with whatever is leftover.
The gift card is accepted only at AMC theaters, so check to see if you have one near you. TRON: Legacy comes out Friday, December 17.