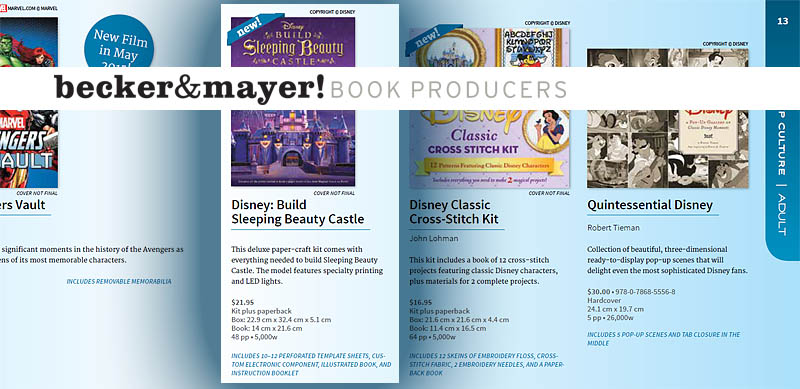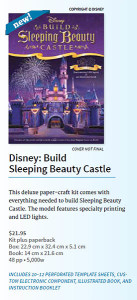 This is unusual, and a bit of a shocker. Tonight, I checked my smartphone after a nice enchilada birthday dinner, and there's an email from one of our contributing artists, Becky.
It seems that Becker & Mayer, the producers of many cool books, will be releasing a "Build Sleeping Beauty Castle" kit, featuring "specialty printing and LED lights." I would assume that specialty printing would refer to gold foil, and I wonder if soldering is required for the LED lights. But, Becky's question was, "Is this your model?"
I honestly don't know; I haven't been told anything. Could it be my Sleeping Beauty Castle paper model that I released back in 2006? There's a slim possibility . . . very slim. Let's take a look at the brief details that Becker & Mayer give about the upcoming kit.
The box measures roughly 9 in x 12.75 in x 2 in. That would just about fit all of my printed parts, the instructions (in the form of a booklet), and an LED kit. So, the box size seems to fit. But, what about the booklet?
The instruction booklet measures about 5.5 in x 8.5 in with 5,000 words. If you shrank my own instructions—23 pages (normally printed on 8.5 in x 11 in paper) and approximately 2,000 words—to that size and added extra instructions for the LEDs, you would get around the same number of pages and words. It's a rough deduction, but it comes close.

Honestly, I wouldn't publish my model in a book as-is. I've learned so much in the past 10+ years (wow, over a decade!) of designing paper models and creating their graphics. There are, I believe (we artists are always tough on our own work), flaws in the model that could be greatly improved . . . both graphically and physically.
Before anyone gets into a huff or a panic, Disney does own the rights that permit them to make this into a book/kit. It was part of my contract with them in 2008. I can't say too much more than that.
For now, let's all wait and see. If it's a brand-new model, that would be awesome. I'd like to see what the "specialty printing" actually is, and how the LEDs are incorporated into the model.
Both the reviewer and this website have not received any compensation for writing this post. Both the reviewer and this website have no material connection to the third-party brands, products, or services that have been mentioned. This is being disclosed in accordance with the Federal Trade Commission's 16 CFR, Part 255: "Guides Concerning the Use of Endorsements and Testimonials in Advertising."
---
There are 10 comments.