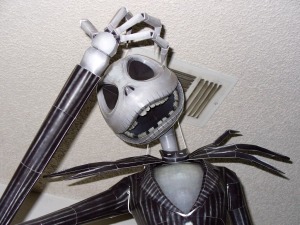 It's that time, boils and ghouls! The Disney Experience has been transformed into the Haunted Experience.
We've been hard at work on this year's Halloween treat, and preparing for our participation in Doorless Chambers. It was tough going at first, but the treat's bugs have been worked out.
We've also had a rather large distraction as Trader Sam has been building a life-size Jack Skellington paper model. There's one hand left to build. Additionally, our Halloween treat came in handy several times as Jack was being built.
Robert Nava (aka Trader Sam) is the owner and operator of Doorless Chambers. This is being disclosed in accordance with the Federal Trade Commission's 16 CFR, Part 255: "Guides Concerning the Use of Endorsements and Testimonials in Advertising."

---
0 Comments