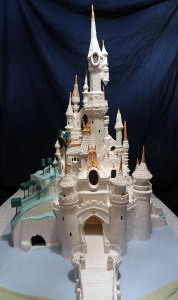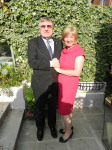 Who knew that I was a cake designer!?
I was contacted over the weekend about this tear-jerking masterpiece. It's a wedding cake that both Bill Macneil and his wife, Lyn, (both from England) created for their daughter's wedding. Katherine, their daughter, was married in Orlando where everyone had a day trip to the Magic Kingdom.
Bill used the parts and illustrations from my Disneyland Paris Sleeping Beauty Castle paper model to create their own sugar paste pieces. It took Bill (in his spare time) nearly five months (April to September) and roughly 350 hours to get everything completed and assembled.
This is a special work of art, and I'm already sharing the photos with family, friends, and social media. Look for hi-res images on Google+. Bill graciously gave me permission to do whatever I like with the photos; he's very proud of the work that he did. Rightly so!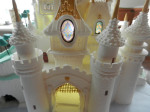 ---
There are 2 comments.